GOLF CART REGISTRATION - ORDINANCE NO. 19-002
GOLF CART ORDINANCE IS IN EFFECT
GOLF CART INSPECTION IS REQUIRED WITH THE WARREN COUNTY SHERIFF DEPARTMENT, 270-842-1633
REGISTRATION WITH THE CITY IS REQUIRED UPON COMPLETION OF THE INSPECTION AND A LICENSE WILL BE ISSUED FOR $10.
See the below from Chief Franks and go to the Golf Cart Ordinance of the website to access forms & info.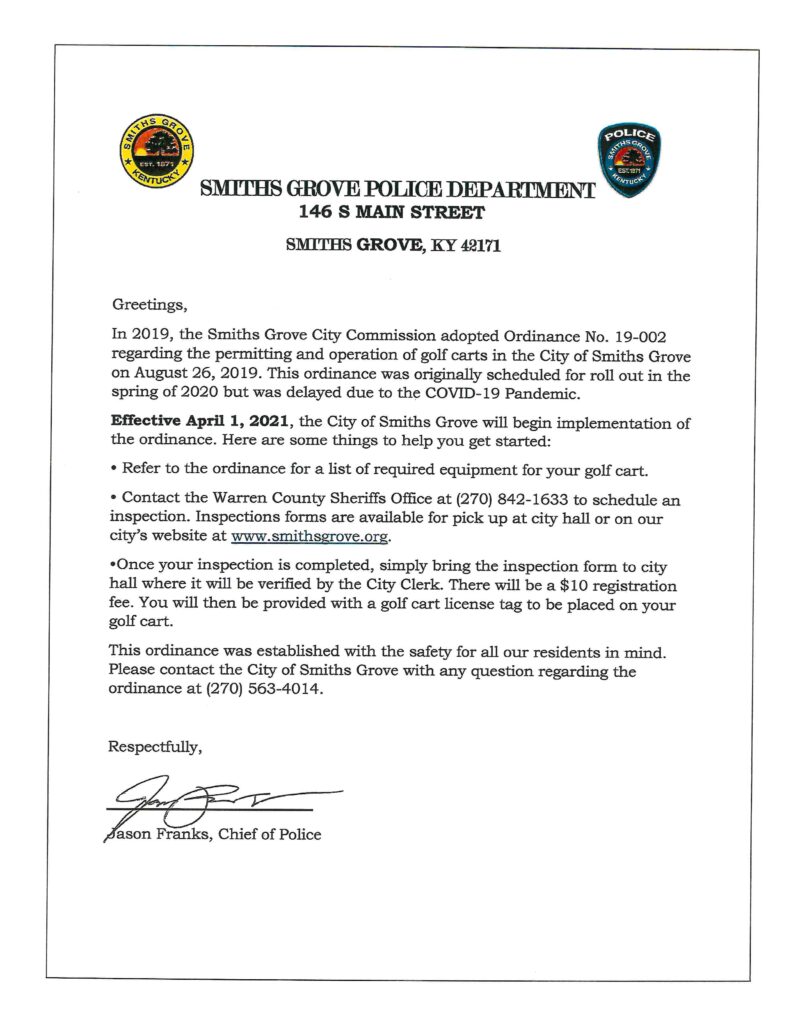 ORDINANCE REGARDING THE PERMITTING AND OPERATION OF GOLF CARTS IN THE CITY OF SMITHS GROVE, KY
On August 26, 2019 the City of Smiths Grove Commission Board approved the Ordinance No. 19-002 to address the permit and authorization of golf carts on the city streets of Smiths Grove. The full Ordinance can be accessed at the below link.
In summary the Ordinance speaks to:
Golf Carts shall only be allowed to operate on city streets where the speed limit is 25 mph or less and only between sunrise and sunset. The only exception to this speed limit is that a golf cart operator will be permitted to cross Main Street (Hwy 101) by a direct, straight across access, without making a left turn or right turn onto Main Street. Driving down Main Street on a golf cart is prohibited.
Golf carts shall be operated by persons that have a valid operator's license in his or her possession.
Golf carts must be registered with the City of Smiths Grove in order to operate on the city streets; inspection and registration fee is required and an official city registration will be issued. (See registration form).